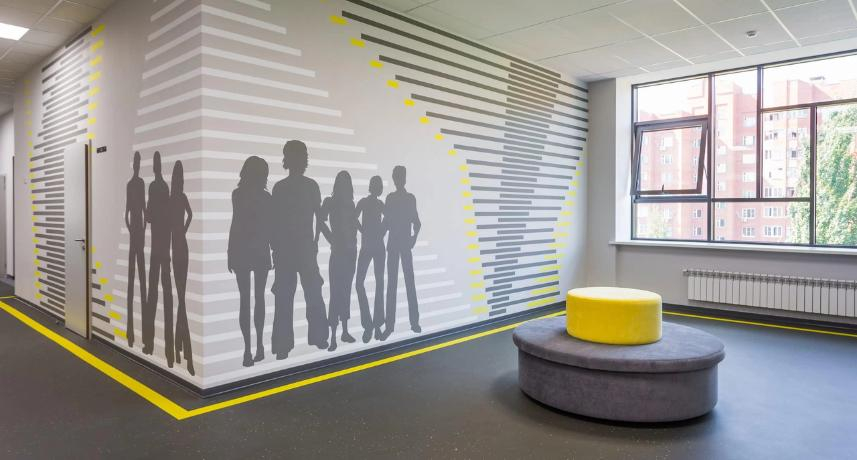 Wall decals are another type of signage. (We're not talking about silly little wall stickers that kids put on their walls!). Rather, we are talking about entire walls, partitions, and other types of walls that you can mount decals on and make your business stand out from the inside. Wall Decals in Sydney, AustraliaInterior signage isn't something you should forget: it can really make your branding experience transition from exterior to interior.
As with any other type of sign, you can use wall decals to display any sort of message that you wish. At their most basic, you can use them purely as décor – for instance in much the same way that you might hang a picture on the wall. Then again, you can cover a whole wall in them.
Furthermore, wall decals do not have to be permanent, even though you stick them to the wall. Mounted on a vinyl background, they can be removed. So, you can display a message for a period of time, and then change it as you wish. You can move the wall decals around to different places in your business, or you can, of course, leave them in one position permanently if you choose to use a permanent adhesive. You can use them to change a plain old wall into a work of art.
Different Types Of Wall Decals
At Platinum Signs we can produce any one of several types of wall stickers for you. For example, you can have a dry wipe wall wrap which has a film over the top of the graphics. This can be either a gloss or matt finish and you can wipe it over with a cloth. Wall stickers are all round Sydney in businesses, shops, and government offices; once you know how to identify a "wall decal," you'll see them everywhere.
Then there is a chalkboard wrap that can transform your wall into a fully functional chalkboard. It is also now possible to cover a plain brick wall with a decal. This uses a special vinyl which is installed using a heating process that sticks the vinyl to the wall as it cools down.
If you want to cover the whole wall in graphics, then we can produce these for you using either a permanent or removable adhesive. The graphics can also be covered in a range of protective coatings which can have either a matt or gloss finish.
Then there are cut wall decals which can be cut to a specific shape, and which have a self-adhesive backing. These work well for lettering or other small designs and can be installed very easily. However, we can install for you if you prefer. There is also our Phototex wrap which is a fabric-based vinyl. These are very easy to move about, so they are great for events and promotions and any other type of function that involves moving from one place to another. Whatever your needs are, reach out to our signwriters and we can create a custom quote on signage and sign options.